Malware growth beyond 30 million soon, 30.000 new threats a day...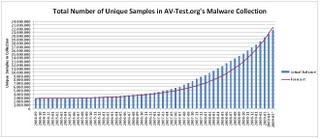 I'm back from my vacation and during the last 3 weeks a lot of things happened:
Koobface got new tricks, Twitter went down, Induc the innovative file infector (Delphi) was found and three people were indicted for stealing 130 million credit cards and other data useful in identity theft. And I was interviewed 4 times on my first working day(VTM (TV), De Morgen, etc..)... However the more real problem comes from the ungoing threat of the creation of new malware. Malware threats have undergone many, many stages of evolution over the years. First it was DOS viruses, then macro viruses, then mass-mailers, then botnets, then Web threats… the only constants seem to be that these are growing both in number and in danger. Kaspersky Lab finds every day over 30.000 new samples. And it's not only us seeing this. Also AV-Test.org has released their findings(see picture).
With more than a million new samples being seen every month, we are now reaching 30 million soon depending how you count the samples. That should clearly illustrate the scale of the malware threat. As the threat continues to grow, so will the system resources needed to protect users from it. How else can users cope up with this threat growth? In my years of experience managing malware signatures, I believe that the only way to go is in the cloud combined with some other new technologies like whitelisting and sandboxing. By using these combined technologies the security world can still cope with the large amount of malware growth combined with good performance. You can find all these new features within the new released Kaspersky Lab Internet Security Suite 2010.